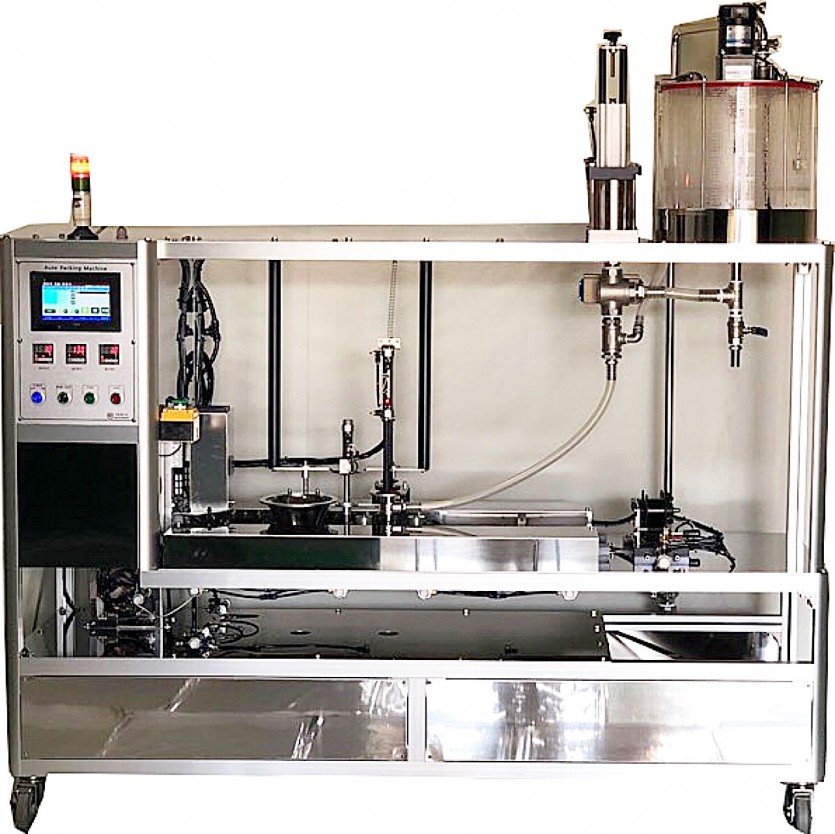 <Features>


* Its compact design and slip type allow for mobile installation in small places and good space utilization.



<Operation by process>

A. Automatic supply of POUCH

* Automatically supplied by AIR vacuum PAD and AIR cylinder when 100 to 200 sheets of POUCH are loaded onto the loader.


B. POUCH OPEN

* A.After receiving and transporting PUCH in the process, open the top bag using vacuum air pad and wind.


C. Input the ingredients (automatic)

* B. Receive the opened PUCH in the process and automatically measure the ingredients.



D. Nitrogen charging (automatic)

* C. In the process, the POUCH is supplied with the ingredients and automatically charged with nitrogen.


E. Finger cylinder close

* D. After charging nitrogen in the process, close the POUCH.


F. POUCH TRANSFER

* E.In the process, various tongs cylinders mounted on the lower end of the closed pouch are operated and then transferred to each process cylinder position.


G. SEALING

* F. Perform the PUCH SEALING transferred in the process.


H. Cooling

* G, After transferring the SEALED POUCH in the process, cool it down.


I. Seal (inkjet printing method) = Option

* H, After transferring the cooled POUCH in the process, seal it.



J. Product emissions

* I, Cool and seal in the process before discharging.


<Production specifications by process>

A. POUCH HEIGHT DEVICE= (optional)

* POUCH: Automatic up and down adjustment by cylinder drive.

(Width): Manual adjustment by inserting the guide plate inside the POUCH loader.

* Drive: Pneumatic.

* Materials used: PLATE: AL6061, SUS304.

ROUND BAR: SUS304.

VACUUM PAD: Silicon (Ø20) 2-tier pleated

SOLENOID VALVE, AIR CYLINDER, (TPC).


B. POUCH upper and lower lashes

* VACUUM: Both ends of the POUCH.

VACUUM PAD: Silicon (Pi15) 2-layer corrugated (upper).

VACUUM PAD: Silicon (Pi30) 1st Stage (Lower).